Last week, I wrote about Irina and Dima's engagement portrait session in Brooklyn.  The next day it was off to Manhattan to get married at City Hall (technically, The Office Of the City Clerk: Marriage Bureau).
I've photographed many weddings at City Hall, and it's always fun.  Whether it's just the bride & groom, or (as in this case) when families and friends come along, getting married at City Hall is a communal experience.  The entire place oozes with excitement, nerves and — of course — passion.  Somehow the bureaucratic formalities, such as waiting for your number to be called–not unlike at the DMV or at a deli counter–becomes fun and romantic.  And although the wedding ceremonies themselves are speedy, they don't lack for solemnity or love.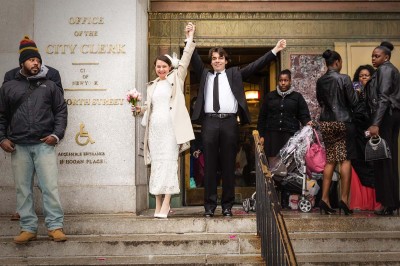 If you enjoy people-watching, find an excuse to wander downtown to see the Marriage Bureau for yourself.  The awesomely cheesy City Hall photo backdrop alone is worth the trip.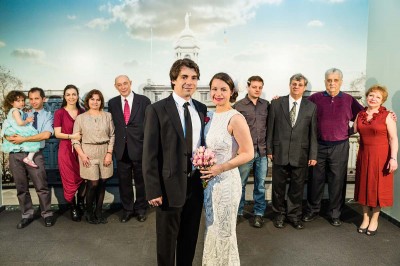 And if you're wondering why Dima has a Crayola marker in his hand, here's the scoop: Dima and Irina didn't have their wedding bands yet.  So they took a cue from their friends Tanya and Michael (whose wedding I also photographed), and inked the rings on each other's finger.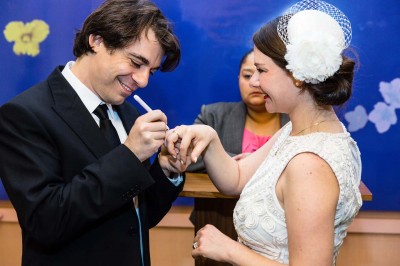 Adios for now….